Lawyer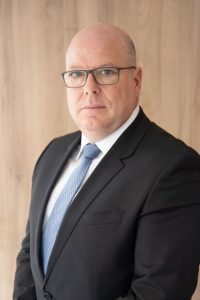 Education:
Diploma in Labour Relations with Pompeu Fabra University.
Graduate in Law with the European University of Madrid.
Master's Degree in legal Practice.
Course in Labour Audits.
Various courses on Administrative Procedure, Social Security and Labour Procedure. 
Practice Areas:
Labour and Social Security.
Specialised in advice to companies in all industries, on layoffs, monetary claims and recognition of rights, administrative and judicial settlements, labour and Social Security inspections, penalties, relocations and substantial modification to work conditions, mobbing, pensions and benefits, work-related accidents, Social Security registration and contributions, preparing payroll, provisional downsizing plans, trade union election processes, Human Resources, personnel management and selection, collective dispute resolution, negotiation with workers' committees and trade unions. 
Professional Experience:
Jordi joined the Bufete de Asesoria Integral Labora in 1984, focusing on the labour department. He was an active contributor to advising both multinational corporations and SMEs from a variety of industries.
From 1992 to 2005, he worked as an independent practitioner in Labour Law.
In 2005, he founded the firm CONSULTORES Y ASESORES LEGALES JURIDIC, S.L., specialised in Labour Law and Social Security. He has extensive experience in dealing with the various instances of labour jurisdiction and relations with workers' representatives and trade unions.
In 2009, he additionally began his collaboration with TBVQ Abogados, where he manages the Labour department.
Languages:
French, Catalan and Spanish.